Texas Teen Driver's Ed Course Tour
Teen Online Driver's Education
+
14 Hours In-Car Instruction
We provide an online teen driver's education courses in Houston, TX, with 14 hours of In-Car Instruction  Our Houston driver's ed course is broken into two phases:

- Phase 1:  Take your 32 hours of classroom instruction through our Online Course.
 - Phase 2:   Take your 14 Hours of in-car instruction at our Katy Freeway Location
You can apply for your permit after taking the first 6 hours of online classroom instruction and have passed the road rules and road signs exam.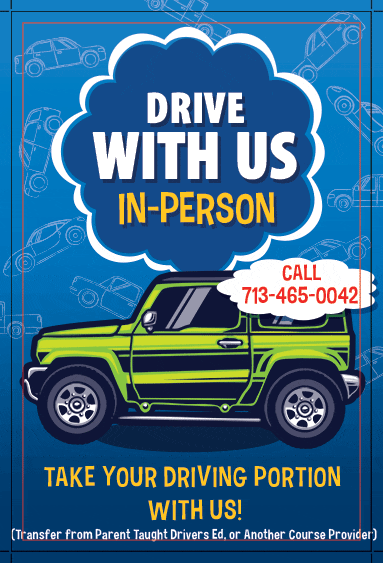 Want To Transfer From a Parent Taught Course or Another School?
If you have your permit, or have completed the 32 hours of classroom instruction, you can now transfer from a parent taught classroom course (or other course) to finish your In-Car training with one of our instructors.
Behind The Wheel Instruction
Professional In Car Instructor
Prepare For Driving Test
Meets State Requiremetns for Behind The Wheel Instruction Time
If you are interested in transferring, please call:
Driver's Ed Program Overview
This course covers the state-required 32 hours of classroom education and 14 Hours of in-car instruction. You will be required to complete an additional 30 hours behind the wheel with a parent or instructor outside the course.